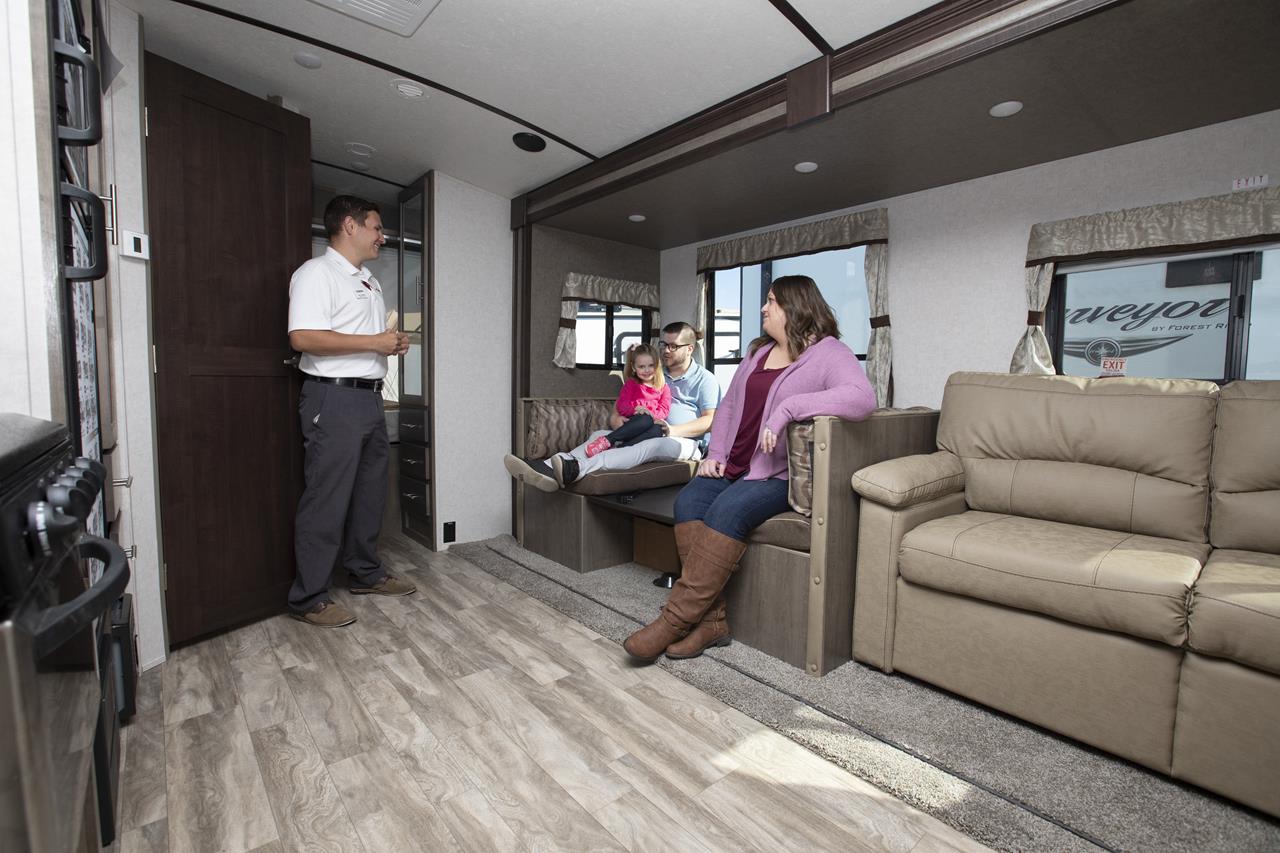 Whether you're adding a new RV to your collection, upgrading, or buying your very first RV, the RV shopping experience can be an exciting one! At Lazydays, our RV experts are here to help you through the process so you can get on the road without worry. New and well-versed RVers are invited to explore these RV buying tips to help bring confidence to the RV buying experience. These tips are great to keep in mind whether you're shopping for new or used RVs.
First-Time RV Buying Tips
For first-time RVers new to the world of camping, purchasing your first motorhome can be overwhelming at times. Choosing the right RV, figuring out RV financing, and navigating RV insurance can seem like a tough process. But with the right help from our team at Lazydays RV, it's easier than you think! We're here to help you through the entire RV buying process from start to finish, and we'll be here long after you get the keys to your coach to help with RV maintenance, repairs, and more.
When buying your first RV, consider these tips:
Explore the benefits of RV ownership and some of the responsibilities of owning an RV, such as making sure you have a space to park the RV when you're not traveling.
If you're going full-time in an RV, consider how much space you'll need.
Make sure the RV is the right size for your travel plans, such as small enough to fit for overnight parking at some of your favorite national parks or beaches.
Make sure you're comfortable driving the size RV you choose, luckily many motorhomes come with exterior cameras throughout to assist with driving.
Determine your RV buying budget, our RV loan calculator makes it easy to get started.
Another important tip for RV buyers, whether first-time or longtime RVers is to make sure you're buying from an RV seller that you can trust. There are many qualities to look for in an RV dealership to ensure you're choosing a dealer who will help you find the right RV for your budget, family, and travels.
What to Look for When Buying an RV
When buying an RV, it's easy to get lost in the details. After all, today's RVs include tons of incredible features that make it easy to bring the amenities of home wherever you go. While it's fun to pick and choose the details that are perfect for you (hello custom tile accents!), it's also important to make sure that the big details of your RV are a good fit.
When buying an RV, follow these tips:
Make sure the RV's floor plan fits your family, such as a split floor plan for more privacy or a bunkhouse style RV to fit the whole family.
If you're getting a fifth wheel or travel trailer, consider the weight and towing needs of the RV to ensure you have the right vehicle for the job.
Make a list of the RV features that you know you'll need, such as a residential refrigerator or washer and dryer on board.
Make a list of RV features that would be nice to have, but aren't a requirement such as a fireplace or a shoe garage.
If you're buying a toy hauler, consider the size of the equipment and vehicles you're looking to store in the RV.
Visit an RV dealership and explore several types of RVs. After all, it's easier to figure out which RV is right for you after exploring the RVs in person.
Talk to the experts, such as RV salespeople who know motorhomes inside and out. They will be able to help you choose the right RV for your needs.
Consider where you'll be taking your RV and the kinds of travels you're looking forward to. The destinations you want to RV to and the areas where you're looking to camp will help determine the size you need.
Another important tip for RV buyers is to understand the warranty that comes with your purchase. Many new RVs include comprehensive warranties for the coach, chassis, and engine. For used RVs, it's important to make sure that you're entering the world of camping with an RV that's been thoroughly inspected and includes any necessary paperwork. Many RV brands also include optional extended warranties that can be used for new and used RVs, and some used RVs may include a transferable warranty depending on the age of the coach.
If you're purchasing your RV from a dealer you can trust, you're well on your way to enjoying the world of camping and RVing. At Lazydays RV, we're here to help you along the RV buying journey. We're focused on helping every customer feel confident in their purchase, and we provide extensive support well beyond the purchase date. Contact us today to learn more about our customer-focused RV experience!